Adhesives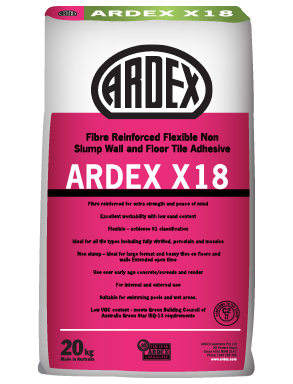 Ardex X18
Fibre Reinforced Flexible Non Slump Wall and Floor Tile Adhesive.

Fibre reinforced for extra strength and peace of mind. Excellent workability with low sand content. Non-Slump - Ideal for large format and heavy tiles on floor and walls

Coverage-
Walls: 11m2 per 20kg
Floors: 7m2 per 20kg

Colours- White/Grey
5kg bag & 20kg bag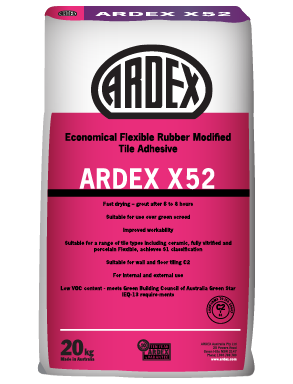 Ardex X52
Economical Flexible Rubber Modified Tile Adhesive

Fast drying - Grout after 6-8 hours . High Coverage with excellent workability & suitable over green screed.
Internal and external

Coverage-
Walls 13-15m2 per 20kg bag
Floors 8-10m2 per 20kg bag

Colours- Off white 20kg bag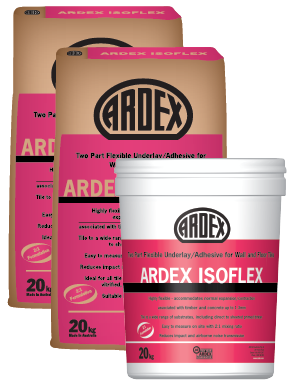 Ardex Isoflex
Two Part Flexible Underlay/Adhesive for Wall and Floor Tiles

Highly flexible - accommodates normal expansion/contraction associated with timber and concrete up to 1.3mm. Tile to a wide range of substrates, including direct to timber. Reduces impact and airborne noise transmission
Highly flexible – achieves S2 classification and 2:1 mixing ratio – easy to measure on site

Colour- White
20kg liquid/ 2 x 20kg powder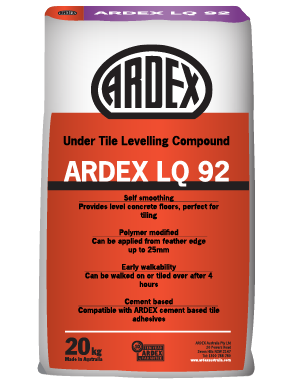 Ardex LQ 92
Undertile Levelling Compound

Self smoothing - provides level concrete floors, perfect for tiling. Polymer modified - can be applied from feather edge
up to 25mm. Early walkability - can be walked on or tiled over after 4 hours.
Cement based - compatible with ARDEX cement based tile adhesives

Coverage is 20kg unit covers approx 3.8m2 at 3mm

Colours - Grey powder, 20kg bag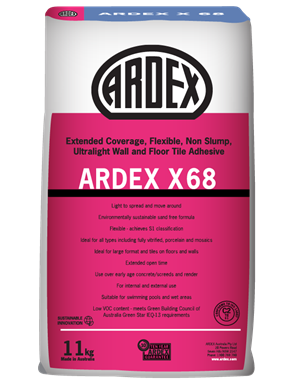 Ardex X68
Extended Coverage Flexible Non Slump Wall and Floor Ultralight Tile Adhesive
Light to spread and light to move around. Ideal for all tile types including fully vitrified, porcelain and mosaics
Internal and External. Suitable for swimming pools and wet areas. Flexible – Ideal for large format tiles on floors and walls.
Extended open time

Coverage- Walls 8m2, Floors 5.5m2
Colour- White, 11kg bag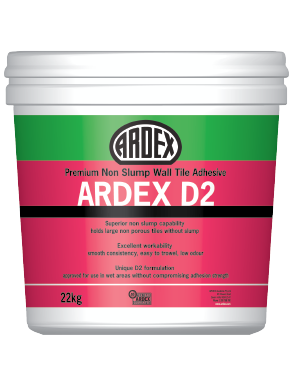 Ardex D2
Premium Non Slump Wall Tile Adhesive
Excellent workability with no mixing required
Unique formulation for use in wet areas
Internal wall applications

Coverage-
Walls 9-11m2

Colour- White
22kg bucket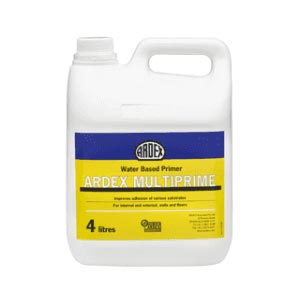 Ardex Multiprime
A water-based primer used for improving the adhesion of ARDEX products to various porous substrate.
Easy to apply with a sponge, brush or roller with applications of subsequent products able to take place with minimal downtime.
ARDEX Multiprime is suitable for both internal and external, wall or floor applications.

4 Litre bottle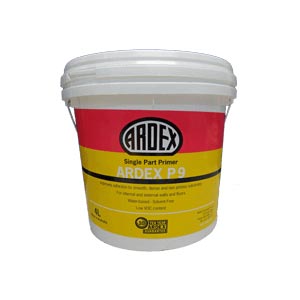 Ardex P9
A single Part Primer is a water-based primer used for improving the adhesion of ARDEX products to smooth, dense and various non-porous substrates.
It is easy to apply with a brush or roller with applications of subsequent products able to take place with minimal downtime.
ARDEX P9 Single Part Primer is suitable for internal and external wall or floor applications.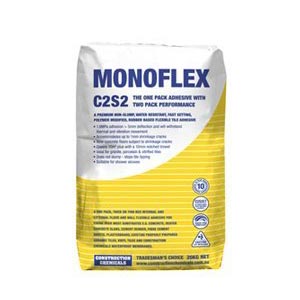 Monoflex
A premium water resistant, flexible rubber based, fast setting, cementitious adhesive for bonding ceramic and stone tiles to porous and non-porous surfaces subject to vibration and thermal movement.

Coverage approx.-
20kg will cover 10m2
using a 10mm notched
trowel (floors).
Specification
The ceramic tile adhesive will be a water-resistant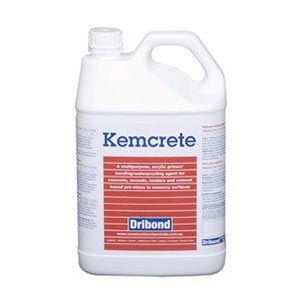 Kemcrete
A multipurpose, acrylic primer/bonding/waterproofing agent for concrete, screeds, renders and cement based pre-mixes to masonry surfaces

Coverage approx.-
Primer: 15m²/litre
Bonding Slurry: 3-4 m²/litre
Mortar Additive: 1m²/litre (10mm thick in a 3:1 sand/cement mix)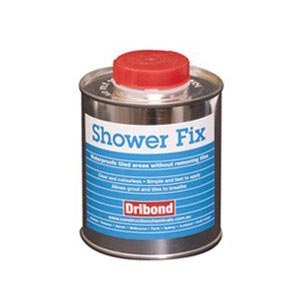 Shower Fix
Shower fix is a siloxane/solvent based material that penetrates deep into the grout and porous tiles, forming a water-repellent barrier.
Waterproofs tiled areas without removing tiles.

Coverage approx-
500ml will treat 15m².