Accessories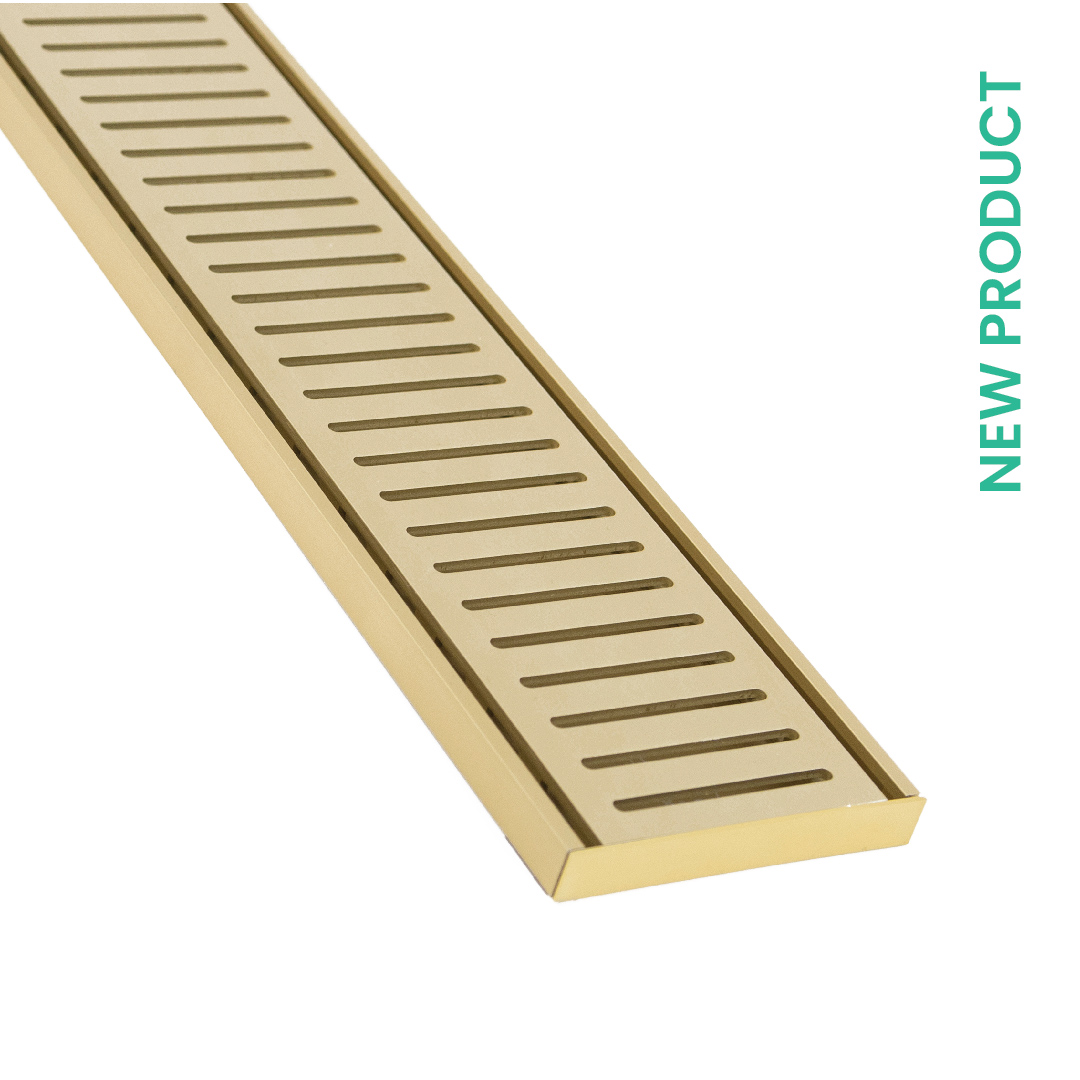 Luxes Grates
LUXES GRATES
Available in multiple colours BLACK, SILVER and GOLD
Available in multiple lengths and depths, this anti-tracking, anodised aluminum grate is ideal for multiple applications, indoor or outdoor. With a Lifetime Rustproof Warranty and no bedding required, the NeXT Generation grates are an industry game changer.

Easily customisable on site
For indoor and outdoor use
Thick as tile and glue
No tracking
UV stable
Brushed finish
Easy roll-out feature for cleaning
and maintenance

SEE IN STORE FOR OPTIONS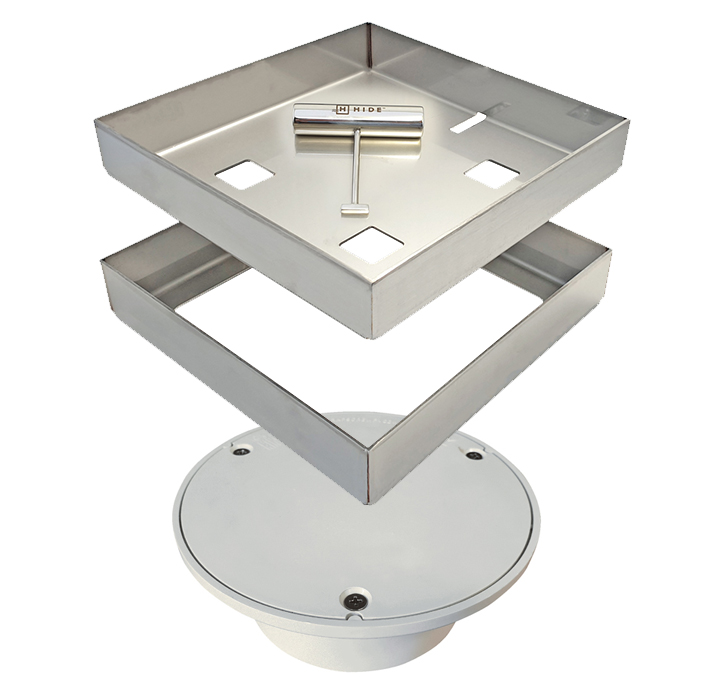 HIDE Skimmer Lids
HIDE Skimmer Lids are an integrated, seamless covers that blend into your landscape.
The HIDE system incorporates your selected surface material into the lid, enabling it to blend into the landscape, creating a luxurious, uninterrupted outdoor space.

HIDE's innovative lids for skimmer boxes, access points and drain covers are available in a comprehensive range of sizes and depths, to suit various external applications.

SEE IN STORE FOR OPTIONS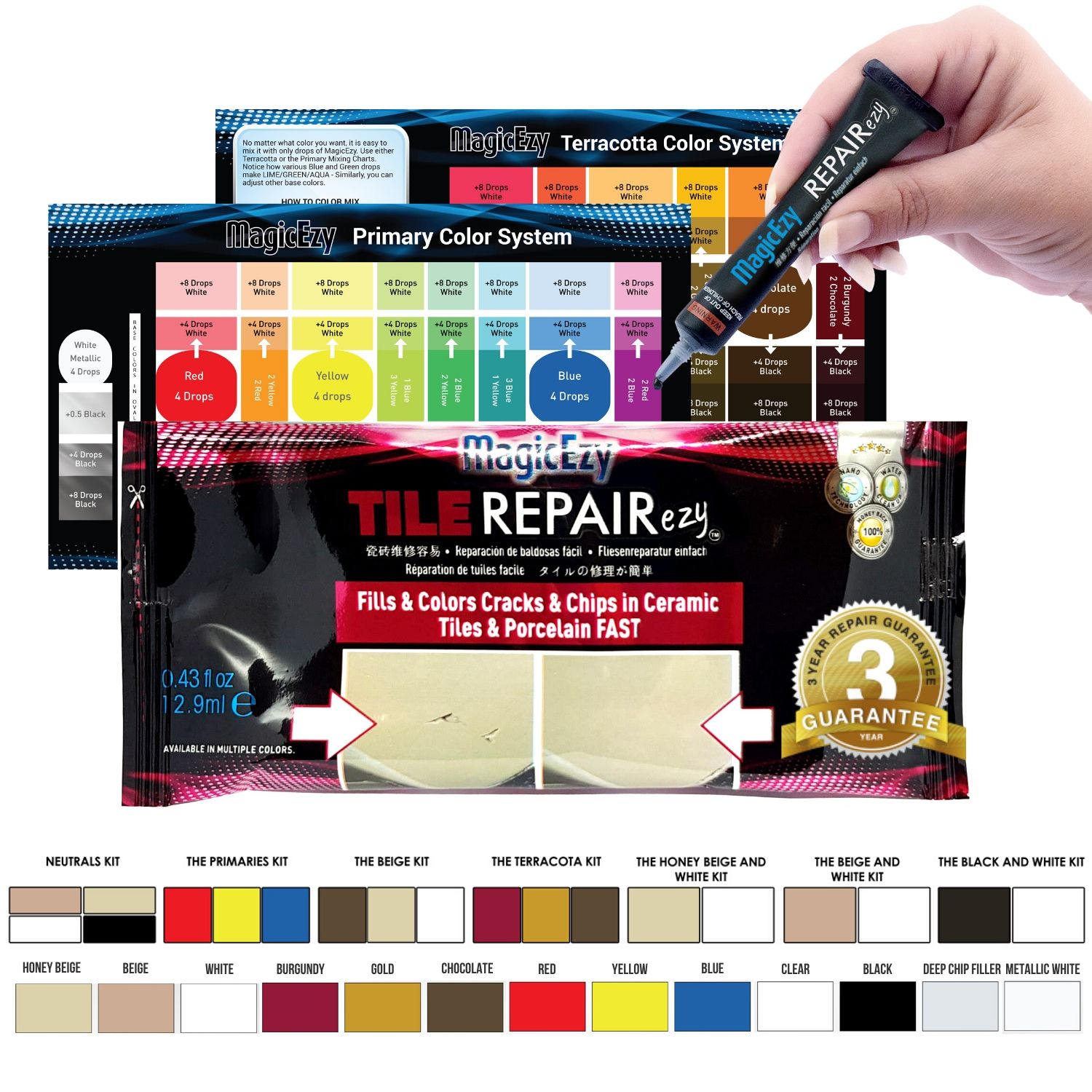 MAGICEZY TILE REPAIREZY™
REPAIR CHIPS & HOLES IN TILES FAST – THICK TILE FILLER – REPAIR KIT

SUPER STRONG AND DURABLE, COLORED PORCELAIN TILE REPAIR FILLER: powered by revolutionary nano-technology for long-lasting repairs; 3-year durability guarantee
MIX AND MATCH TILE COLORS: Match virtually any color porcelain tile with one of our repair kits
USE IT ON MOST SURFACES: all porcelain and ceramic tiles, bathtubs, sinks; plus fridge, stove and appliance scratch repair
GLOSS FINISH: Or for matte surfaces, you can easily adjust gloss levels

Our Tile Repair Kits come in 7 versions:
-The Terracotta Repair Kit – for earthy terracotta tiles
-The Primary Colors Kit – for bright or federation colored tiles
-The Neutrals Kit – for a large range of beige, almond, tan, browns, and creams
-The Beige/White Kit – if you have beige tiles
-The Honey Beige/White Kit
-The Black and White Kit – for different shades of gray
-The Beige Repair Kit -Chocolate, White, and Honey-Beige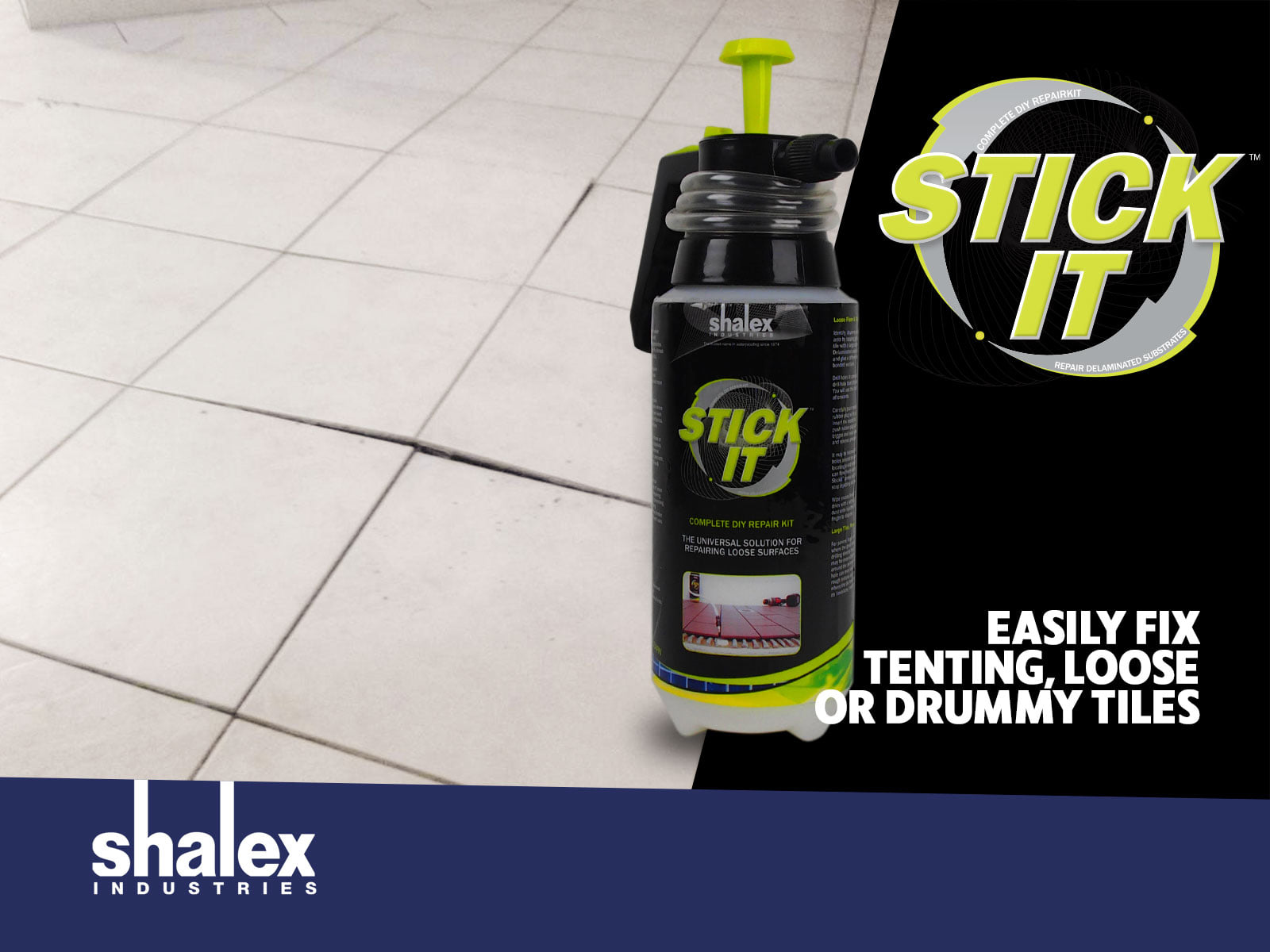 SHALEX STICKIT
STICKIT
FIX LOOSE OR DRUMMY TILES

StickIt is a new generation adhesive specifically designed to fix loose or drummy tiles without having to pull them up and re-lay.
The StickIt Tile Injection Kit comes complete with everything you need and is easy to use and available in 1 litre and 5 litre kits for small or large jobs.

StickIt can be used to fix a range of issues like-

Drummy or delaminated floor and wall tiles
Loose laminates
Creaking wood floors
Timber joint or crack adhesive
Reinforce cement render or plaster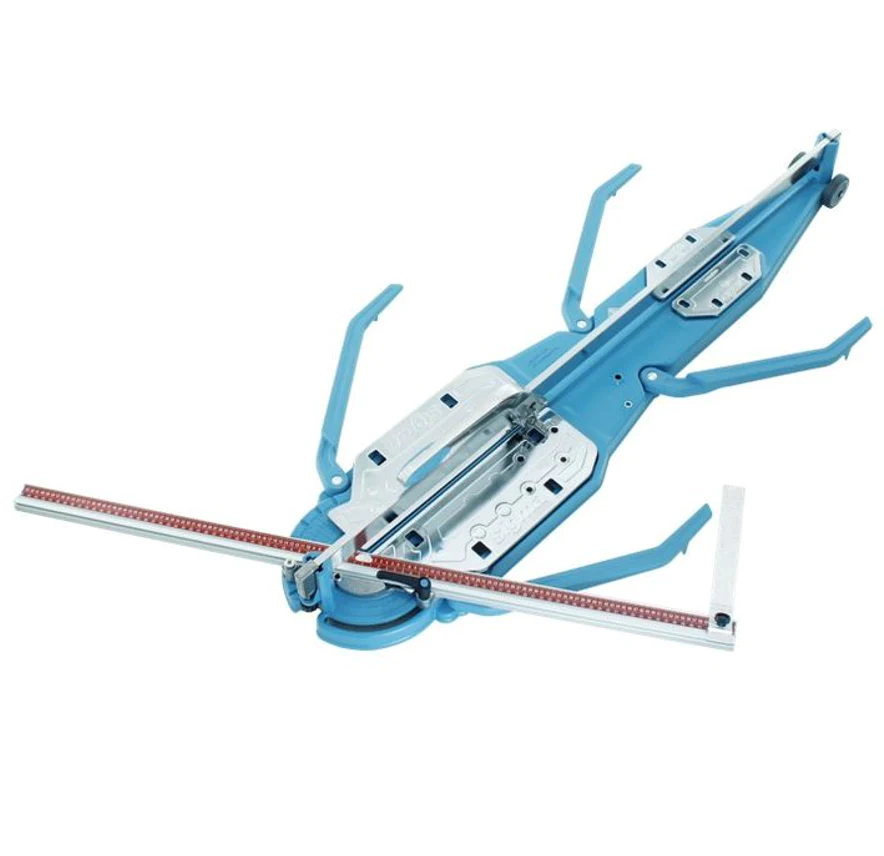 SIGMA TILE CUTTERS
SIGMA TILE CUTTERS
Coming in a range of sizes these compact pull action tile cutters are perfect for professional tilers, with a diagonal arm that swivels from 0°- 45° in both directions for a neat and clean cut at any chosen angle.

KEY FEATURES:

Ergonomic handle with ball bearing for fast pulling incision.
Chrome plated guides, very robust for a perfectly straight cut.
Adjustable height settings for different tile thicknesses.
70mm wide foot, ideal for fast breaking of all types of tiles.
Non Marking pad prevents scratches on tiles.
Strong but light aluminium structure.
Openable spring arms for support of large tiles.
Long measuring square for use on right or left.
Comes with a replaceable 12mm scoring wheel.

EFFICIENT IN CUTTING: ceramics, clay, glass, mosaics, porcelain, terracotta, vitrified tiles.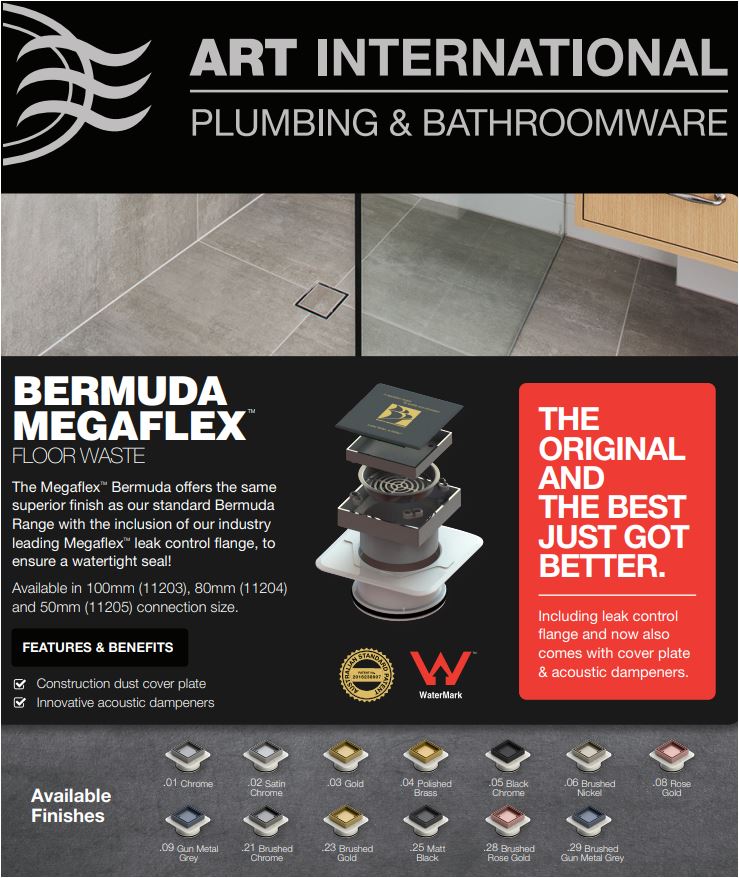 BERMUDA FLOOR WASTE PRODUCTS
Widely recognised as the market leader in Basin, Bath and Floor Waste products, Art Plumbing & Bathroomware has an innovative solution for every project – Residential or Commercial. Our Bounty Bathroomware brand of designer products has heads turning around the world with our flagship Bermuda & Pop Down® products.

Whether you are looking for high fashion bathroom products in a wide range of electroplated and PVD finishes / colours, or the durability of Marine Grade 316 Stainless Steel for that high traffic area, Art Plumbing & Bathroomware has the solution.

There is no substitute for the peace of mind that comes with choosing products from a fully Australian owned and operated business with more than 30 years' experience in the industry, and our story is only just beginning.