FAQ
Choosing tiles for your design can be overwhelming. Here we have answered some of the more commonly asked questions, however our team are available to assist you in any way we can.
Please feel free to visit one of our showrooms or give us a call to answer any enquiries.
What tiles are best for a wet area?
It is Important to use a floor tile that has some slip resistance. Gloss & smooth tiles can make the surface area slippery & it can be a hazard, especially when wet.
How do I know how many tiles to order?
You will need to look at the net area of your space and also allow for wastage which is usually 8-15% of the total tile amount. Depending on the size of the area and the size of the tile you are selecting, you should also allow for some spares for safe keeping after job completion. Please don't hesitate to call in store for specific advice on measurements for you project.
Should I seal my grout?
It certainly will make the grout easier to clean and maintain.
What are tile faces?
The number of faces refers to how many different patterns are printed on the tiles and pre-mixed in the boxes. Tile faces can vary from just 1 on basic tiles to 30+ on a premium range. Higher amounts of Tile faces are also common in tiles that are trying to replicate a natural material such as stone or marble and have a lot of variation. This enhances the look of the tile and makes it appear more natural when laid. (In some cases, tile faces won't be applicable, a good example of this is a basic white subway. Once laid every tile will look identical and there will be minimal variation.) Please keep in mind a sample may only display 1 face so it's best to see in-store display for variations and speak with the sales staff for more information.
What is a tile rating?
Tiles have different types of ratings that help you determine which area the tile is most suitable for. These ratings are the PEI (abrasion resistance), V rating and slip resistance rating. These ratings are here to help you make the best decision for your application and if you are unsure, we are here to help.
What is a shade variation rating?
The shade variation rating of a tile indicates the degree to which its colour, tone and texture may vary among individual tiles from piece to piece and batch to batch. It is recommended that several tile pieces from the same production run be examined in order to determine shade variation is suitable and what you would like.
Below is an example of a shade variation chart.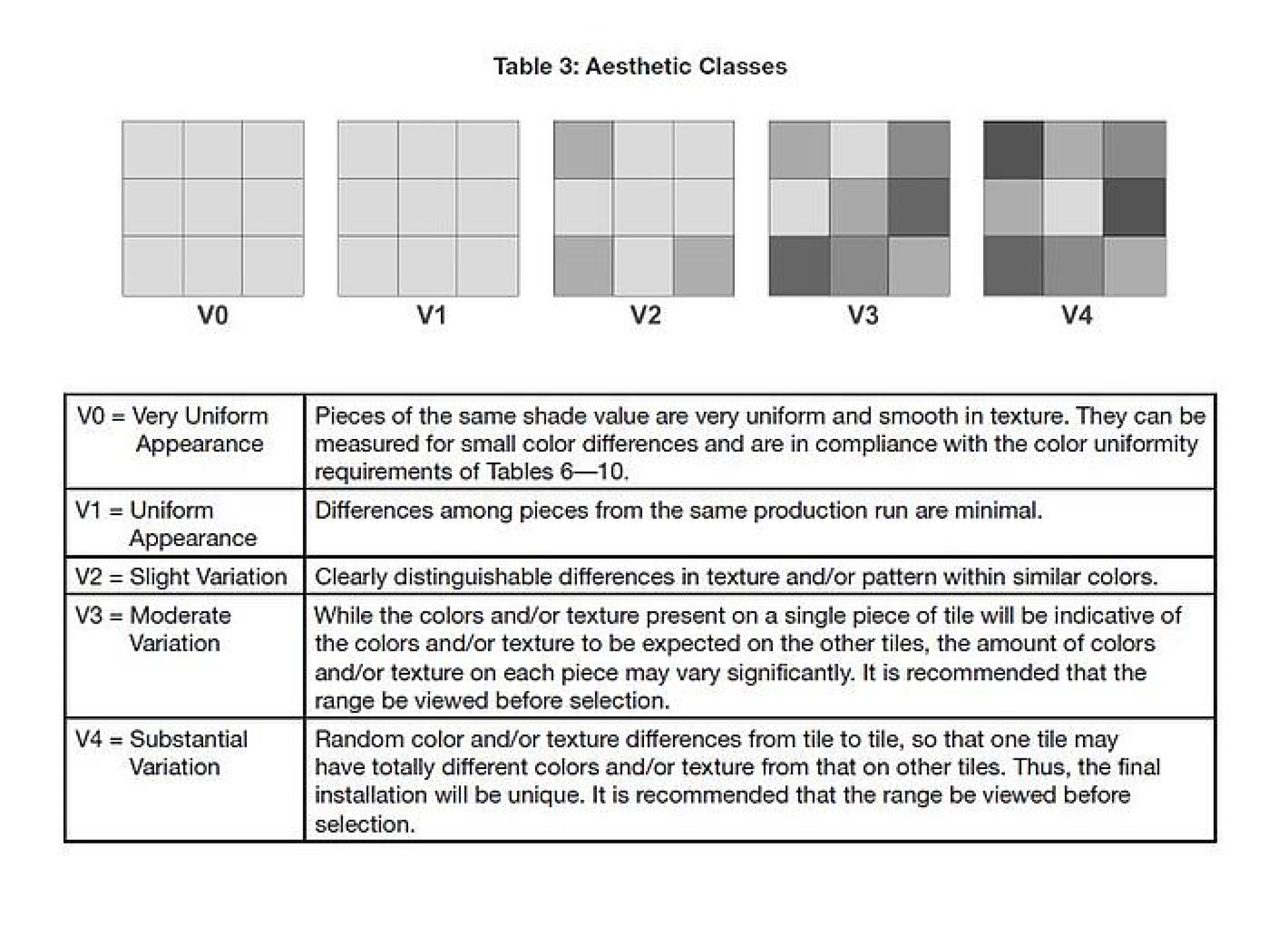 ---
Common Tile Terminology (Glossary)
While it is not necessary to understand or be fluent in tile terminology, as our team of experts will always be here to assist, you may choose to brush up on industry terms to help you with your projects.
Abrasion resistance: This is the tile's ability to hold up against foot traffic and any friction. In Australia, the PEI rating system is used to determine how well your chosen tile will withstand wear and tear.
Absorption: This is the percentage of moisture (water) a tile can absorb. The 4 different ratings for moisture absorption are:
Non-vitreous (Low density) – Tile with water absorption of more than 7.0 percent.

Semi-vitreous (Medium density) – Tile with water absorption of more than 3.0 percent, but not more than 7.0 percent.

Vitreous (High Density) – Tile with water absorption of more than 0.5 percent, but not more than 3.0 percent.

Impervious (Extremely dense) – Tile with water absorption of 0.5 percent or less. This is where porcelain tile is generally categorized.
Body: The structural part of a ceramic tile not including the glaze.
Bullnose: These tiles are usually used as edges, treatments or trims. They have rounded edges and act to eliminate harsh or sharpened edges of your tiling design. It is also known as 'battiscopa'.
Cement tiles: Made by hand with natural materials and not fire treated. Offering a high thermal mass, they are an ideal choice for families as they act as insulation and have a positive impact on energy consumption in the home.  There are a wide range of options to choose from with many patterns and styles available for both indoor and outdoor
Ceramic: Ceramic tiles are made from natural materials, are durable and easy to clean and maintain. They are able to be used in almost any indoor or outdoor surface and provide a functionality like no other, while also remaining cost effective.
Cotto: These are hand-made and fired, offering a traditional look. They are durable and best suited for floors and walls lending warm tones to your design.
Cove: A concave trim tile used at the join of a wall and floor, most commonly used in wet areas often. It is easy to maintain and clean and is ideal for kitchens and bathrooms.
3D tiles: Give a different and more modern look as opposed to a traditional or standard 2D tile. The effect you choose can be quite bold or quite subtle, depending on the look you are trying to achieve.
Epoxy: This is a durable, stain- and chemical-proof, heat resistant resin-based grout. It is versatile and very strong, making it an ideal grout solution.
Format: This is the shape and size of your tile, and there are so many to choose from. The format you choose can greatly affect the overall look of your space so it is best to speak to an expert to find out which size will work for your zone.
Finish: Essentially this is the visual appearance of the tiles surface and includes finishes such as matt, gloss, natural, semi-gloss.
Glaze: This is the glassy coating fired on the tile giving it the final finish.

Grout: This is used between tiles, filling in the gaps and adding additional strength to the tilework itself. This can come in many colours, depending on the style and pattern you have chosen.
Honed Finish: Ideally used for commercial flooring it has a semi-polished finish, usually with no gloss.
Layout: This is the way your chosen tiles are laid on the surface.

Marble: A porous metamorphic limestone that is commonly used as a vanity top.
Mosaic: These are very small sized tiles, that due to their size, come on a mesh style backing. This makes them a lot easier to work with and create designs.
Porcelain: These are made from porcelain clay. These are fired at a higher rate than a ceramic tile, thus making it much harder and denser than a lot of other tile products Porcelain is durable and resistant to most elements, stain resistant due to its low water absorption and is a very popular choice.
Quartz: A common crystalline stone and a major component of granite.
Rectified: These tiles have a very precise, square edge. The process of rectification allows the tile to be cut and ground down to control the dimensions of the tile itself for the design being used. Rectified tiles need only minimum grouting.

Sealant: This is a substance that is used on porous tiles. Glazed tiles do not require sealant. This helps protect the tile and grout from staining. It is vital to speak to a professional before beginning as not all sealants are suitable for all tiles.
Slate: This is a natural stone tile. It has natural cleaved layers and due it's organic nature, has an uneven surface. Slate has been used for many years in roofing and flooring. It is quite a popular choice and has a high thermal resistance.
Subway: A rectangular tile with its named derived from the Manhattan subway system. Traditionally laid in a brick pattern, due to its popularity these tiles now come in a variety of shapes and colours.
Terracotta: This is a traditional clay product producing cream to red coloured tiles. The surface of these tiles can be rustic or smooth and used on a variety of surfaces.

Unglazed: Unglazed tiles gain their colour and texture from raw materials or may be coloured by oxides dispersed throughout the body. You can add a sealant to these tiles to improve their water resistance.
Wastage: Roughly 10% should be allowed for wastage with tiles due to cutting, breakage or tile faults. It is a good idea to allow for a small amount of tiles to be kept aside in order to replace any tiles that may get damaged or need replacing later on.
Wall: Tiles designed for walls are usually glazed and used where impact or friction are not a concern. These types of tiles don't withstand floor traffic and are the ideal weight and structure for walls.